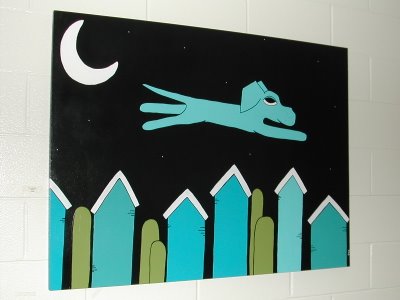 This is the first piece I am putting up for sale. This piece is 36" x 48" on gallery wrapped canvas so the painting goes all the way around the edges and is ready to hang. It is also very light weight which I find rare for a canvas of this size. This is one of my favorite pieces and just hung this on my own wall. But I have decided that maybe clearing things out and sending some pieces off to new homes will motivate me to paint more. This piece was originally $300. It is
now on sale for $150!!
If you live in the area, we can set up a pick up or drop off for free. If the piece needs to be mailed we can discuss shipping costs; I charge actual cost only so no worries about crazy handling fees. I accpet credit/debit cards via PayPal or checks and ofcourse cash. Drop me an email at yellowdogart@aol.com if you are interested!