The answer to that question is too much to even get into. At least right now. But in an
effort
to get back into the swing of things i thought instead of surfing the
internet
, I should post something. Anything!
Although
I cleaned out many of my large pieces, I never really got to cleaning so that is what this weekend is supposed to be about. Supposed to be as in that is my current intention. I am trying... :)
I have been short on ideas lately. Tonight will be a night of sketching. I have an event coming up in early March and I need to get my $*&! together. The event is called the
beCAUSE
Art Show and the idea of this event is for vendors to donate a large (if not all) of their profits to a charity of their choice. Shoppers get to see some unique work form people of all ages and styles in a non-holiday setting (aka: no crushing crowds!). And a large portion of what shoppers spend goes to charity. Not bad, eh? I will
post
more about this event as it
approaches
. I have been a shopper at the event for the past two or three years and last year it was just amazing. I look forward to being on the other side of the table
this
year.
And finally for today....
here is another piece up for grabs at a bargain price. I like this piece a lot and I have held onto it intentionally, however, it does not go well with the
palette
of my other pieces and the pieces I will be working on for the upcoming months. So I thought I would try to find it a good home. I get some space in my studio and the pieces of mind that it is being looked at instead of in storage while hopefully someone
out
there gets a very affordable piece of
original
art!
Here is 'Go for a Walk?':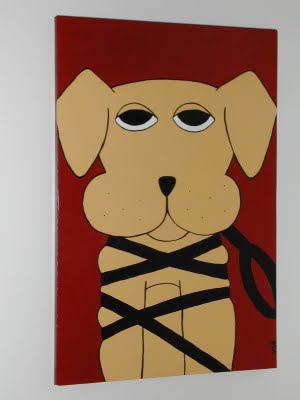 This piece is 18" x 36" and on gallery wrapped canvas and is ready to hang! Originally priced at $80; it is now on sale for $40! Drop me an email at
yellowdogart@aol.com
if you are interested.
I know I have been out of the loop for a while now so please feel free to drop me a quick hello email as well. I miss chatting with everyone but look ofrward to seeing you at events as the weather gets warmer. It will get warmer again, right?