Like everyone, I have been busy. Life in general got very busy and then the holidays came. All is good and I think I now have some time to relax and catch up. I thought I would start by updating my poor neglected blog.
I have actually been wanting to update this blog for a while but it appears my photography skills are not only NOT improving but getting WORSE!! I have been working on a number of commissioned pieces and gifts and I have been anxious to post them here but the nasty weather has made taking pictures in natural day light an impossible task. I still want to post the pictures but please excuse the terrible quality. Please try to see past the bad lighting and terrible focus and try to imagine the color that really exists! I hope you all have incredible imagination skills.
Here is the second half of Patsy's commission. Patsy commissioned the pug piece below for her son as well as this one for her husband. I really love how this one turned out. I was worried with so many of her much loved four-legged friends being black that the background would outshine the kitties and pug but I think they worked great together. I love the white whiskers! I hope the pieces were a hit with their recipients. Patsy was so sweet and patient as our schedules had us missing each other constantly.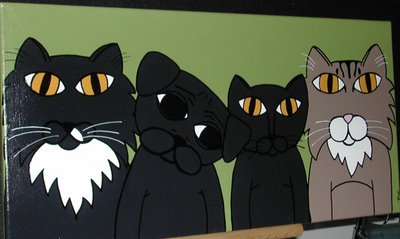 That is all for now. Maybe I will add more pictures later today. If not today, then tomorrow. I promise. I need to spread out all the new painting goodness!