Wow! What a great response from the Humane Society Auction! I cant wait to hear how they did overall. Dont forget, not everyone is able to provide a four legged friend a new home but most can help by donating blankets or warm towels (for bedding), canned food or even office supplies to help our two legged friends in the office. Check out the Humane Society's web page to see what they need the most. I am flattered by the emails and hope to have my new web site up soon; until then I will post new work here in my blog for super easy access. They go so fast, I cant keep up! But thats a good thing--you keep asking and I will keep painting! So by request, I have posted images of the yellowdog pieces I currently have available. I have several in process but if you have a yellowdog(or brown dog or black dog or even a kitty!) just drop me an email and I will gladly try to incorporate some personal details of your best friend into a piece for your review. No promise to buy needed---if you love it you can buy it! If you dont love it, I will find it a home at a later date but appreciate new ideas! Again, here are the pieces I have currently available; all of these peices are on wood and of varying sizes. Please email me with any questions at
yellowdogart@aol.com
!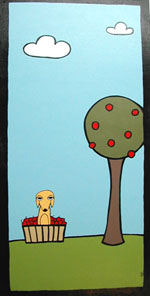 Yellowdog at AppleFest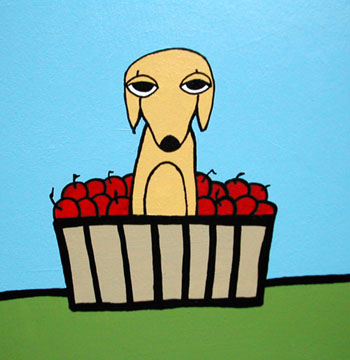 (Yellowdog at AppleFest close up)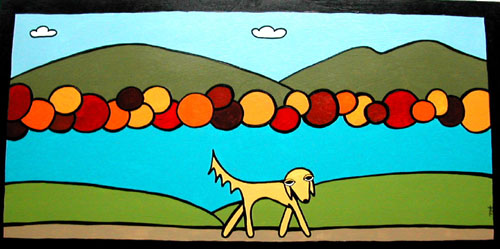 Yellowdog on Autumn Stroll. This is one of my favorites. The colors look much brighter than this image portrays (sorry, still mastering the digital camera).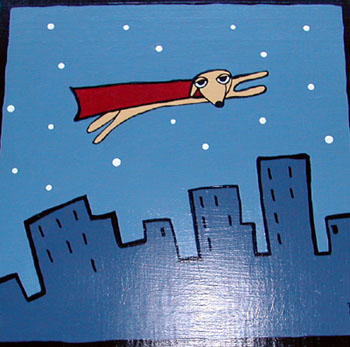 Super yellowdog! Yellowdog actually saved his arch nemesis, Chippy the Chipmunk, so I thought he deserved this. Do you have a super yellowdog?!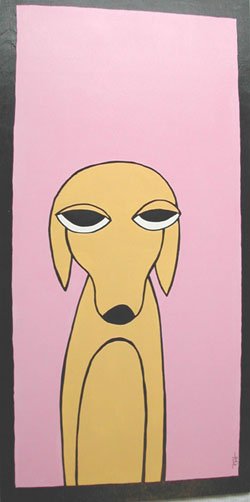 Yellowdog is definitely a boy but pink being so "in" we had to give it a try. This peice was actually one of two done for a customer to choose from. This is my neices' favorite.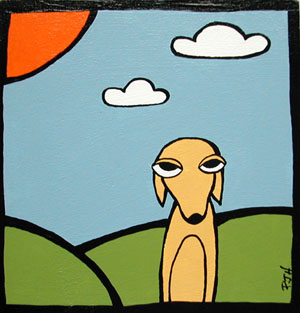 This is the smallest peice listed; I like this little guy! Enjoy! And dont forget to support your local animal shelter and please send me an email and tell me what you think or what you would like to see.