Here are some more pics from the HSCC Walk for the Animals this past June. What a blast. Prefect weather, friendly people, super hero HSCC staff assistance...what more could I ask for?! Even the scary storm that scared us to end very quickly just gave me motivation to pick up fast and get home.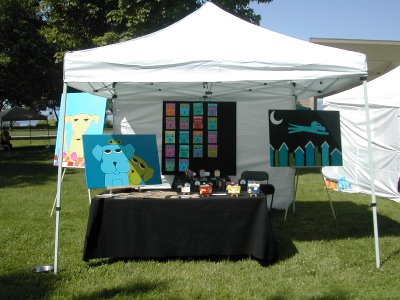 Above you see my humble set up. I went for fewer super huge pieces and focused on lots of cute little guys as well as some new media. The little 3" x 5" paintings were the biggest hit and I have to admit I love them too!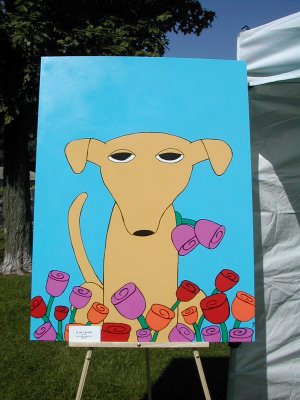 Here is a pic of my newest huge piece. This piece is called Tulip Field, 48" x 36" and still available for $175. It is currently up and part of a show but email me if you are interested at
yellowdogart@aol.com
!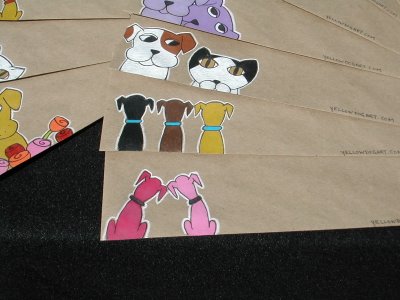 Above is a sample of my newest media. These are 100% recycled Kraft colored mailing envelopes. I used oil pencils and created what I call Mail Art! These were popular too at only $3.00 for a piece of original artwork to keep or send to a friend! I had a ton of fun making these! If you are interested in seeing more or having a quick custom envelopes made, email me!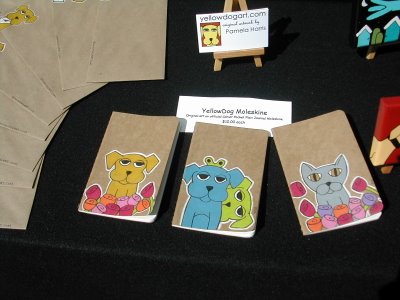 Ahhhhh, I might sound like a dork but I am crushin' on these. These are moleskine pocket journals with original art done in oil pencils. I hate to get rid of these but I bought more to work on to soften the blow.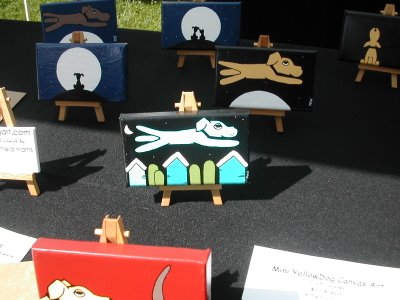 As any of my readers know, my digital picture taking skills are not always so hot. Above is a small sample of my newest 3" x 5" pieces. I think the little easels really help with the cute factor. Most of these sold but I do have a few left as well as a few in the works so contact me if you would like to check out what I have available.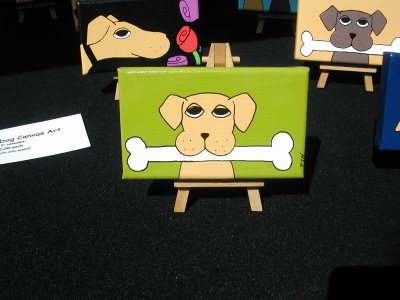 A couple more of the 3" x 5" pieces. I can see 8 more little canvases from where I am sitting just waiting for me to tackle them.
In other news...
I am currently displaying lots of work at Dealer.com on Pine Street. Specifically in their Cafe. With a special reference from the always kind Cecilia, Chris Conn was kind enough to give me a call and has allowed me to fill the walls of his Cafe. I filled the place with all new pieces!! Oh ok, a couple were not brand spanking new but MOST of them are. The people at Dealer.com have been so nice and receptive of my work. I am having trouble keeping the walls full! Pics of these new pieces tomorrow.
I got some very very good personal news this evening so I think I might be able to breathe easily and maybe even sleep for the first time in a couple months. I wish all of my readers the same wonderful feeling....