I am spending a LOT of time working on all new pieces for the
HSCC
event and I would love to show you pictures of what
Im
working on but I decided not to do that. I would like everything to be new and fresh that night so pictures of those will come after the show. However, I did find this old photo of a piece I did as a gift. Not a great picture but I liked how the piece itself turned out. Knowing the girls made it so much more fun to do.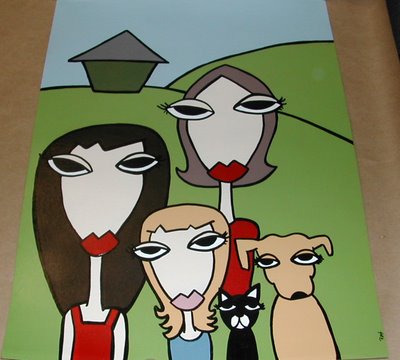 This was done during my cardboard phase. A canvas used to stress me out but using the cardboard found everywhere made me much more relaxed and willing to paint. Both at work and at home I found a continuous stream of cardboard bound for the dumpster so I gathered it up and painted like crazy. Most of the pieces I just give away are on cardboard. They probably will not last forever but they cost the new owners nothing, they kept the
cardboard
from landing in the landfill and I had fun. I have two huge storage bins of fun-to-be in my basement waiting.