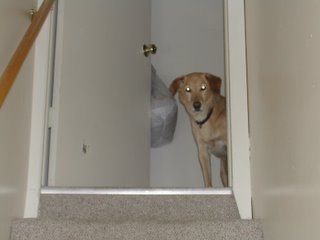 This is a test. Apparently I found a bug in blogger when trying to post an image last week. Great I found a bug. I say that slowly and extremely bummed. I spend most of my days at work finding bugs in a software program and then trying to work with CIT guys fixing these bugs or finding not-so-easy ways to work around them. And now Blogger?! Come on...This is supposed to be my work free...bug free time.
Blogger told me how to work around the bug so here I go trying to work around the bug. If you see an image, I was successful. If not, I am sitting at home being pissy mad.
The picture you are HOPEFULLY seeing is YellowDog looking down into my studio. He wants me to stop painting and come upstairs and cuddle on the couch! I usually submit to this look before too long.